What can you learn from the service marketing communication funnel
Do you know how to effectively use a funnel?
Do you want to be a funnel ROCKSTAR even if you are a beginner?
At the end of this article – I am going to show you how you will be able to become a funnel ROCKSTAR – even if you are a beginner.
Even if you knew nothing about crazy funnels and stuff.
But first …
It looks like doom and gloom here in UK this Christmas.
There are some speculations that this recent lockdown will last until Christmas.
The children will not enjoy this years' yuletide season.
Well, you might ask "Roland, what this has to do with marketing.
First off – businesses during this season are utterly struggling because of the current situation.
Without the proper marketing strategy – businesses will go bonkers.
One such strategy is what we call … you guess it?
Yes! Marketing Funnel.
And today, we will discuss all about it in great detail.
Shall we begin …
A marketing funnel describes the marketing process through which goods and services are offered to the prospective customers who are not yet in buy mode.
It describes the Levels of awareness, visits, and eventually, purchase.
A marketing funnel is the process by which one can develop a funnel that is constructed on a marketing automation channel.
Enabling customers to undergo the entire cycle in a systematic manner, which includes buying, adding value for their purchase, and loyalty towards the brand.
The best campaignin a marketing funnel is the one in which the customer has already made a point of being interested in the products or services before the marketing funnel is built, and the customer gets just as interested in offering his loyalty.
This process is called "preselling" and this is what every marketer should be after.
It is the best way to take the pressure off of the marketer.
Many organizations struggle with the notion of offering loyalty schemes in returns for traffic purchases.
The trick is to put the loyalty scheme at a position from which customers will come, and spread the word around.
In the end, this will certainly make the customer get connected with the business.
The best marketing funnel has the qualities of being well-structured and used in a strategic way to achieve the strategic and marketing goals of the company.
For each step and customer, the marketer needs to prepare an action plan, which details the aims and timeline for reaching the goals.
As well as the required finances and resources that will have to be spent as measures of success.
This marketing funnel helps in making decisions fast in order to keep ahead of the competition both on the front-end and in the back-end.
Here, the company has the opportunity of maintaining good prices, handling quantities of goods, and addressing customer needs efficiently.
All marketing campaigns in the marketing funnel need to be well- intricately connected in the scheme of action that the company wants to initiate and maintain.
These steps include creativity, innovation, and development cycles of the marketing activities.
An effective marketing funnel will include an understanding of the strategic goals and objectives.
The design of the implementation plan must be such that the entire process is well coordinated and can be replicated over a long term basis.
It is essential that the marketing objectives must be clearly defined then and there.
A marketing campaign can be considered as a web-based homework, which is to be made a step-by-step, user-centric, problem-based, so that the risk is reduced and the implementation process is easily parlayed.
Every marketing activity has to be tailored to the needs of the customers and the product they buy and the expectations they set.
In the greater scheme of things, a multi-level marketing campaign would be a perfect union of micro and macro/m
Micro dimensions are those activities that help develop goals for the firm objectives, then develop a quantitative effective assessment over a prospective high-level implementation point which will be considered as key performance indicators for the organization.
The marketing elements must be developed and used with non-commercial perspective to meet objectives and expectations.
The marketer must be very clear where the mission statement is and what it expects from the customers.
Key marketing reports must be prepared such that the sales reports can be produced and analysed.
With youtube marketing strategies and strategies that are generally profitable should be integrated to this strategy for new and upcoming customers.
The marketing funnel is not a window to the whole marketing world.
It is a tool to acquire customers to buy, establish contact, and renew the relationship.
What Is A Marketing Funnel? And Why Should You Care About It?
The Marketing Funnel Explained
What is a marketing funnel and how do you use it?
How to Create the Ultimate Marketing Funnel (Templates Included)
Marketing funnel
Understanding the Marketing Funnel
What Is A Marketing Funnel And Why Should You Care?
Understanding the Marketing Funnel and Why It Matters for Your Marketing Efforts
How to Build Marketing Funnels with Email
Lets dive in …
What Is A Marketing Funnel? And Why Should You Care About It?
Click here to view original web page at www.lyfemarketing.com
In today's climate, the internet gives businesses all over the world the ability to reach and connect their products and services with consumers.
But just because the internet gives your business an advantage like this doesn't mean that's all there is to it.
Implementing effective marketing techniques is the most efficient way to reach those potential customers and turn them into real clients.
Providing solutions to your customers through every step of their journey is exactly how you can achieve this.
The truth is, you could have an amazing product or service, but chances are people won't buy it the first time they see it.
This is why attracting new leads is very important.
However, attracting leads is really only the first step when it comes to generating new business.
As a business owner, it's crucial for you to not only generate qualified leads, but also move those leads through the sales cycle smoothly.
Every customer your business encounters has to go through some type of marketing funnel.
That's where having an optimized Marketing Funnel comes into play.
Why Is A Marketing Funnel Important?
Even if you have no marketing set up, have minimal marketing experience, and or have a tiny budget.
Creating a marketing funnel will help you prioritize, organize, and implement your marketing strategy.
Having a marketing funnel will allow you to get the most out of your marketing efforts, giving you the opportunity to grow your business.
The best part?
It really works and it really helps businesses just like yours!
Ultimately, utilizing a Marketing Funnel will give your business the ability to dramatically increase the rate of repeat purchasers you have.
And with repeat customers comes sustainable business growth.
That said, let's begin to breakdown the basis of a Marketing Funnel and the importance of each stage in the process.
What Is A Marketing Funnel?
A Marketing Funnel is an idea that the customer journey, or actions a customer takes before becoming a purchaser, can be broken into 4 distinct but interconnected sections.
A marketing funnel aids in connecting the dots between your marketing strategy and lead generation.
It's the process each of your leads go through before fully becoming a conversion.
Essentially, having a marketing funnel is step 0 in developing a marketing strategy that works.
This is because in order to sell people a product or service you have to understand how they interact with your business.
As well as, what the steps are that actually turn people into customers.
A marketing funnel will not only help you understand those key points, but will also lead you to increased revenue, increased traffic, increased ROI, and, most importantly, increased repeat purchases.
Real Life Benefits of A Marketing Funnel
Did you know companies that utilize the full Marketing Funnel, will see a much higher conversion rate?
This means that if your business has been struggling to convert website visitors in to paying customers, you have the chance to change that by utilizing a Marketing Funnel.
For example, we consulted both a local restaurant and an E-Commerce business using full digital marketing funnels.
Both saw great results all from implementing the proper tool to help boost their marketing efforts.
By implementing even the most basic of Marketing Funnels, we increased the revenue for our established E-commerce client by 2128% and their average purchase value by 8.3%.
Both the E-commerce brand and local restaurant were able to see their website traffic increase, more engagement on their posts, and, most importantly, more conversions.
All factors they weren't able to increase without an optimized Marketing Funnel.
So, we have covered what a Marketing Funnel is and looked how it has worked for other businesses, but you may now be wondering "How do I develop a Marketing Funnel for my business?"
To answer that question, we have to do some more digging.
In this next section, we will further breakdown each step of the Marketing Funnel and explain how you can optimize each step to your business's advantage.
The Marketing Funnel Explained
Click here to view original web page at expertprogrammanagement.com
The purpose of a marketing funnel (sometimes called a purchasing funnel) is to illustrate the hypothetical journey a customer takes in going from someone who knows nothing about a company to a customer of that company.
Basically, a marketing funnel is designed to turn leads into customers.
The idea is that the marketer shows their advertisements to a broad array of their ideal potential customers.
And then nurtures those leads slowly over time through the funnel.
Reducing the number of potential customers at each stage of the funnel.
Until eventually those leads that arrive at the bottom of the funnel become customers.
The concepts you'll learn in this article apply equally to both the online and offline advertising world.
The Classic Marketing Funnel
Let's begin by looking at the classic marketing funnel which I'm sure most of you will be familiar with:
Now, before we begin I should state that this funnel is for illustrative purposes only.
There is no such thing as a marketing funnel as drawn above, only a series of interactions people go through with your company (and other companies) as they make their way from being a complete stranger to a loyal customer.
In short, each marketing funnel is unique.
Here is what each step of the funnel means in the above diagram:
Awareness: Someone notices your business or offer, for example, maybe they see an ad on LinkedIn or a tweet.
Interest: You have their awareness and now they decide to find out a bit more about you, for example, maybe they download a free guide.
Evaluation: In this stage of the funnel you have their interest and they are working out whether you are credible, for example, do you have past customers who back up what you say.
Trial: They have evaluated you and you look both trustworthy and as though you can solve their problems, so they decide to do business with you in some small way.
Adoption: This is where they finally decide to become a customer.
Note that how much a company will be prepared to pay to turn an unknown prospect into a customer will very much depend on the lifetime value of that customer (LTV) to the business.
Adding Time to Our Marketing Funnel
To layer up our funnel slightly, another dimension to consider is the time customers are prepared to devote to interacting with a company at each stage of the funnel.
As you can see, initially people have very little time for you as you're just another voice amongst thousands competing for their attention.
As they start to investigate you further they begin to devote more and more time, however, once they have evaluated you and are beginning to trust you, they dedicate less and less time to you.
It is important to understand how the time dimension impacts your marketing.
It can be tempting to bombard prospects with information as soon as they express interest in you, and it's easy to see why companies do this as they want to show everything they're capable of, but this isn't what prospects want.
Rather than initially send your prospect a huge case study once you've peaked their interest, perhaps it might be better to send them a single page containing a bullet point list of the results you've achieved for others.
Yes, it might just take 30 seconds to digest, but it gives them what they want to know (not what you want them to know) and if they like what they read then they can start to evaluate you.
Another way to think about the time dimension is to consider if you're connecting prospects with the right information at the right time.
For example, if you are using case studies, are they just sitting there on your website, or would it perhaps be better to send a couple of case studies.
That can be digested in under 5 minutes out to new prospects automatically three weeks or so after they first expressed interest in you?
What is a marketing funnel and how do you use it?
Click here to view original web page at geomares-marketing.com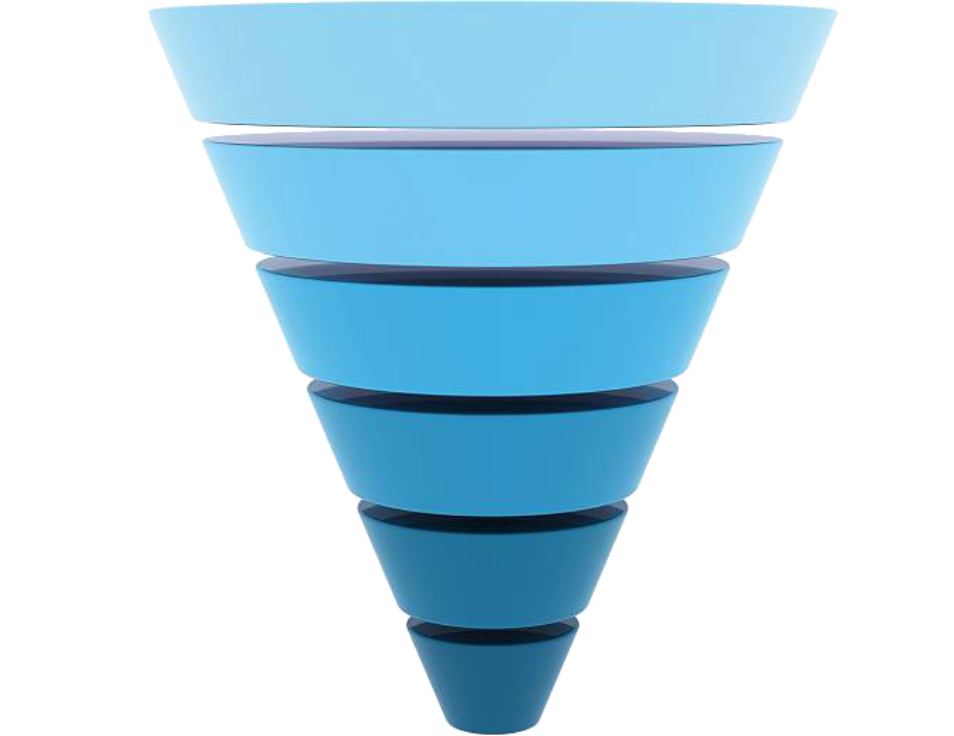 Did you know that only 2% of the purchases are made at the first contact moment?
This percentage is even only 10% at the fourth contact moment.
On average, a customer needs between 5 and 8 contact moments before a purchase is made.
These moments together form the customer journey and this journey is different for every customer.
That is why it is very important to respond well to this with your communication,.
So that potential customers get the right information at the right time.
The process towards a purchase is called the marketing and sales funnel.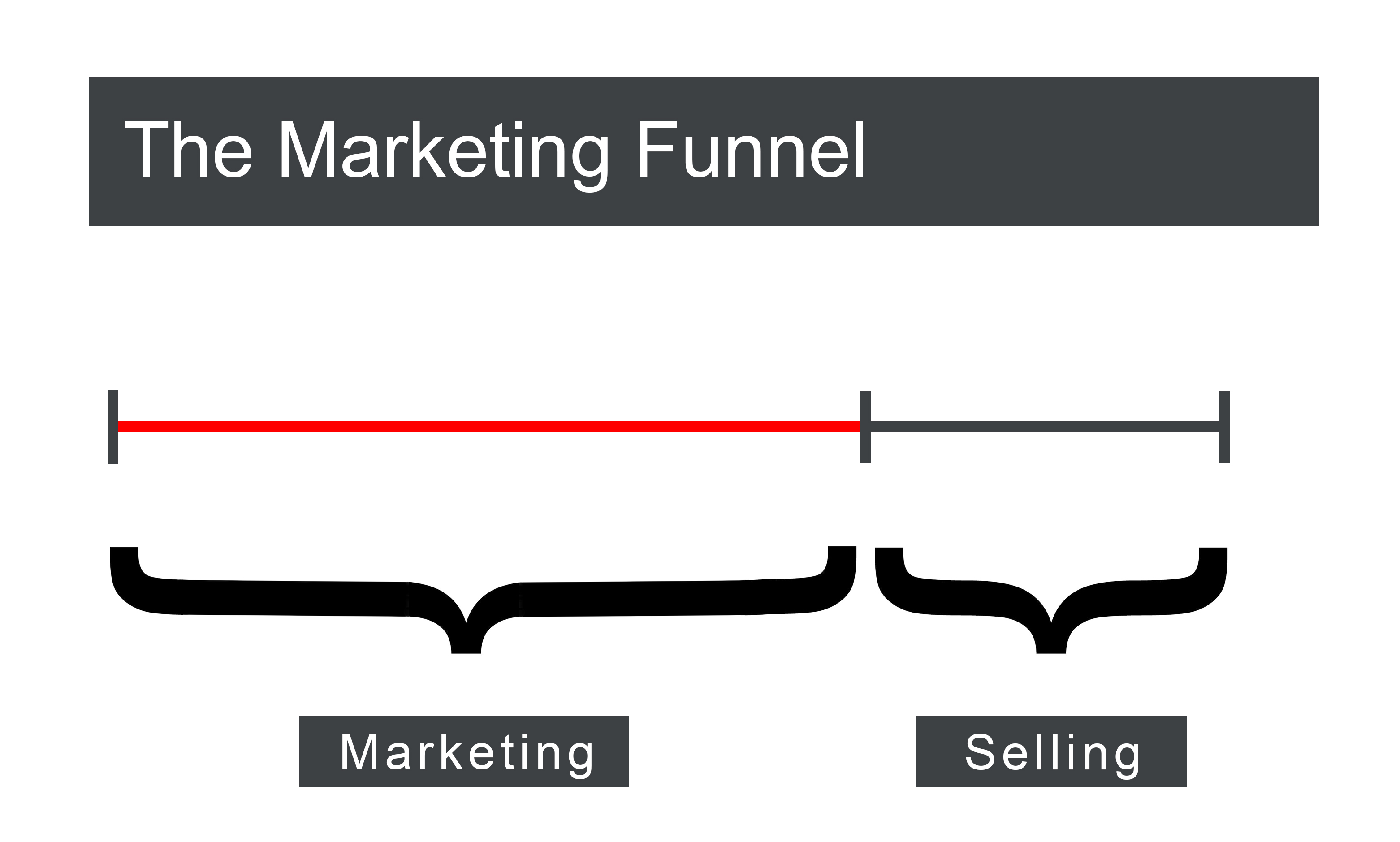 Why do I need a funnel?
As mentioned in the introduction, a customer needs between 5 and 8 contact moments on average for a purchase.
Annoying?
On the contrary!
It offers opportunities to brand your company and product or service in such a way that the customer can not miss you in any way.
Customer journey
The contact moments that lead to a purchase together form the customer journey.
There are countless models written for this by marketing gurus and experts, but certainly the most used one is the AIDA model.
This model contains the following phases: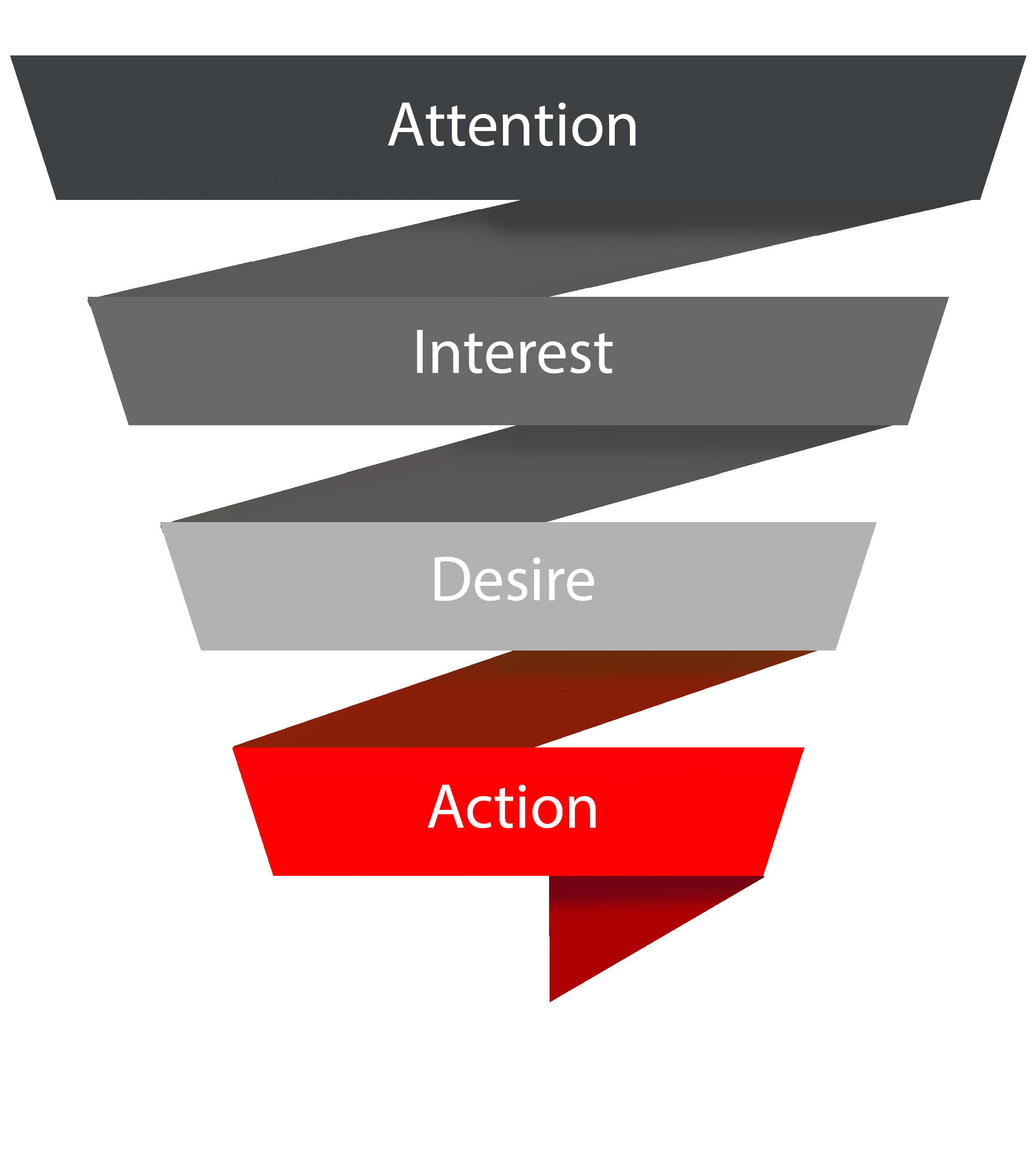 Attention: the customer has a certain need, is aware of it and knows your product or service
Interest: the customer begins to show interest in your product
Desire: the customer has the need to buy your product
Action: the customer buys your product
Each stage of the model needs his own unique approach and messages.
It does not make any sense to start communicating prices and packages, when the customer is not yet aware of your product and certainly does not have the need to buy it.
Time and effectiveness
A well-equipped funnel ensures an effective distribution between sales and marketing and saves you or your employees a lot of time.
An automated funnel ensures that your website and communication provide a constant stream of leads 24 hours a day.
The marketing department can focus on the communication within this funnel and the sales department can effectively spend its time by focusing on prospects that are in the last part of the customer journey and thus your funnel.
Advising and informing
Consciously or unconsciously, customers have the need to be informed and advised by experts when purchasing.
They want to be helped to make sure they make the right choice.
A sales and marketing funnel offers the opportunity to meet this need and at the same time put your company and product as the solution that the customer needs.
What is the difference between the marketing and sales funnel?
The funnel that we are talking about is often classified as a sales funnel.
Strange, since most of this funnel consists of marketing, while sales comes around the corner only at the end.
That is why we make a clear distinction between marketing and sales here.
Marketing funnel
In the marketing funnel you are busy attracting potential customers.
You're focusing on a broad audience and try to convince the customer that your company is the best choice for their needs.
In this process it is of the utmost importance that your target audience gets as little 'red flags' as possible.
That is why you only communicate about problems and opportunities that your target group has and do not yet speak about the solution that you can offer.
If you do this, potential customers will start to doubt your motives and sincerity and thus trigger a 'red flag'.
Sales funnel
The sales funnel starts when the marketing funnel has done its job well.
The customer is aware of his needs and now is the moment to talk about your product or solution and how it can help your customer.
Shift from sales to marketing
In recent years, the focus has shifted more and more from sales to marketing.
Where sales were still responsible for about 60% of the funnel, this is now only about 20%.
This is clearly visible in the image below.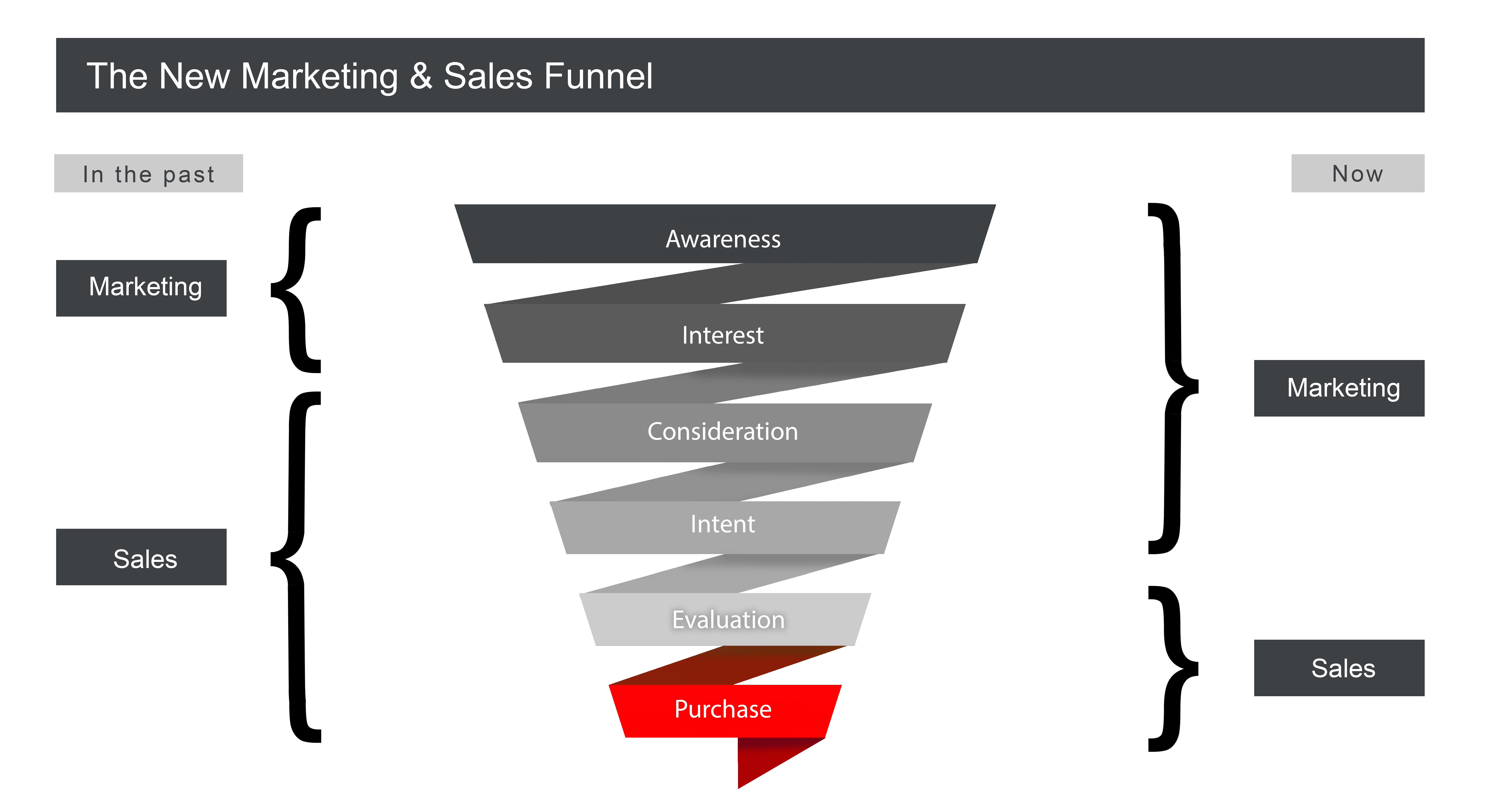 How to Create the Ultimate Marketing Funnel (Templates Included)
Click here to view original web page at www.singlegrain.com
Want to grow your organic traffic by 20-100%?
We built ClickFlow, a suite of SEO tools designed to increase your organic rankings and scale qualified traffic for your website.
Click here to learn more and get started.
Bonus Tool: After you map out your world-class marketing funnel, you'll need targeted traffic to to test the funnel.
That's where ClickFlow comes in.
We built a done-for-you SEO audit tool that shows you easy tweaks to blast your funnel with search traffic that converts.
Click here to start a 7-day trial for just $1.
If you want your business' sales process to run as efficiently as possible, you absolutely must get your marketing funnel – the process of converting a visitor or browser into a paying customer – right.
Some business owners are moving away from the term "marketing funnel" because they think it's too mechanical or simplistic to describe the lead nurturing sequence by which customers move from awareness to purchase.
I think it's still a useful way to describe a complex process and it's a good visual to imagine the entire process from start to finish.
Read on for a comprehensive break down of what a marketing funnel is and how to create a successful one – plus we include several templates to help you out.
What Is a Marketing Funnel?
A marketing funnel is a way of breaking down the customer journey all the way from the "awareness" stage (when they first learn about your business) to the "purchase" stage (when they're ready to buy your product or service).
Often funnels can also include post-purchase follow-ups which increase retention as well as cross- and up-sells.
The first step is, of course, getting traffic to your site.
You can do this by creating SEO-friendly content, publishing white papers and getting backlinks.
As leads progress through your funnel, your outreach methods will get more and more personalized (sometimes involving a product demo or a phone call) until the sale takes place.
Bonus Material: Get our short video on the unorthodox marketing funnel we're using to generate resilient traffic, leads, and clients—even during uncertain times. Click here to get instant access to the masterclass.
Here are two example funnels – one that is effective and one that is not effective.
Example 1: A Not-so-Effective Marketing Funnel
Norman Newbie owns a software company with ten salespeople and one product.
He's not a very savvy marketer, so his sales process currently involves handing his salespeople lists of leads that he purchased online and having them "dial for dollars."
His salespeople frequently get frustrated since the leads aren't always good quality.
Because they're usually calling on people who A) aren't interested in his services and B) are not a good fit for them, the salespeople close less than 1% of the prospects they initially reach out to.
Marketing funnel
Click here to view original web page at sproutsocial.com
A marketing funnel describes your customer's journey with you.
From the initial stages when someone learns about your business, to the purchasing stage, marketing funnels map routes to conversion and beyond.
With careful analysis, a marketing funnel lets you know what your company must do to influence consumers at certain stages.
By evaluating your funnels, you can potentially drive greater sales, more loyalty and stronger brand awareness.
The Evolution of the Marketing Funnel
At the end of the 20th century, Elias St. Elmo Lewis created a model highlighting the stages of a customer's relationship with a business.
The "AIDA" model indicates that every purchase involves:
Awareness: The prospect is aware of their problems and possible solutions for them.
Interest: The prospect shows interest in a group of services or products.
Desire: The prospect begins to evaluate a certain brand.
Action: The prospect decides whether to purchase.
Defining the Marketing Funnel
The basics of the marketing funnel have stayed the same since the 1900s.
However, no single model is universally accepted by all companies.
Some prefer to keep their model simple, using the "TOFU-MOFU-BOFU" strategy which refers to the top of funnel, middle of funnel, and bottom of funnel as distinct elements.
Others believe that adding "loyalty" and "advocacy" stages to the funnel improves the marketing strategy.
After all, businesses lose up to $1.6 trillion a year when customers leave them.
Strategies for Each Stage of the Marketing Funnel
The marketing funnel works as a unified whole.
This means that every section needs to work perfectly for the journey to be successful.
There are many things that reduce friction in their marketing funnel. For instance:
Awareness: Branded content strategies appeal to audiences and make them receptive to future interactions.
Consideration: Brand advocates and social proof assist customers when they're comparing you against competitors.
Conversion: A simple purchasing process reduces the risk of buying.
Loyalty: A loyalty program with regular discounts, email interactions and social media maintains customers.
Advocacy: Receptive individuals in your loyalty program support your future marketing funnels.
The Benefits of Marketing Funnels
Marketing funnels simplify the customer journey and make it easier for companies to follow.
These solutions map out each stage of their client's decision process and plan the steps they want to take in each.
A marketing funnel applies to almost any customer interaction.
Whether you're looking for online sales, generating traffic for your brick and mortar store or collecting clicks as an affiliate, you need a marketing funnel.
The funnel is powerful way to bring visibility to every stage of connecting with your customer.
The biggest benefit of marketing funnels is their measurability.
Your funnel shows you where you're losing customers, to help you pivot your strategy.
For instance, if you lose customers before they ever get to the second stage, you need a better brand awareness campaign.
Understanding the Marketing Funnel
Click here to view original web page at www.feedough.com
A goal without planning is just a dream.
You need a 'start to finish' plan in order to ensure effective use of resources and better results.
For marketers, imagining a buyer's journey is an integral part of planning an effective marketing strategy and there's a perfect tool for the same: the Marketing Funnel.
Just like an actual funnel, Marketing funnels represent a buyer's journey from awareness to the actual purchase of the product.
The concept marketing funnel revolves around is that marketers spread a vast lattice to catch hold of as many leads as possible and then gradually foster prospective customers through suitable schemes, even though the numbers lessen with every passing stage.
Sounds puzzling?
Let's ease it further.
Imagine any online shopping portal, for instance.
Several hundreds of people like you visit the website every day, rather every hour.
You view products and choose among innumerable options.
This is followed by adding items of your choice to their virtual shopping carts.
Not all visitors to the site buy the products from here.
Some might make inquiries; some might browse through a different site and land up buying the product somewhere else.
The platform which was open to act as a magnet for millions now gradually funnels its way through different steps into achieving profits from few by selling its items away.
What is a Marketing Funnel?
A marketing funnel is a model describing the customer journey from awareness of the product to the actual conversion.
It has long been a topic of contest and conjecture.
We call them funnels because the probability of sales and proceeds gradually decreases at each step.
Some people opt out, some lose interest, and some choose another portal.
Had this not been the case, terming it as a marketing cylinder would have been better!
In an ideal situation, all leads would turn into customers – ten on ten returns.
The job of the marketers, hence, is to make sure that most of the leads are turned into customers so that their marketing funnels could distort its ways and turn into a marketing cylinder.
How does Marketing Funnel work?
The customer's journey starts from awareness and ends at purchase.
However, there are many other stages which give rise to the shape. In a marketer's perspective, these stages can roughly be divided into three parts.
Lead Generation
A customer is made aware of the product through marketing and advertising campaigns, consumer research and discovery.
The awareness is followed by gathering information in some form from him.
This process of gathering information is called lead generation and the information is further used in the lead management system to nurture it down the system.
Lead Nurture
Once the prospective customer is made aware of the product, it's the duty of a marketer to nurture the lead by arousing his interest in buying the product and make him consider it over other products.
This involves marketer to tap several other channels, improve its public relation strategies, and include affiliates and partners who promote the product.
Sale
The narrowest bit and the tip of the funnel.
This is the result of marketer's efforts and the customer's journey.
Marketing Funnel Stages
The three parts of the marketing funnel are made up of six stages of the customer's journey. These are
Awareness
A marketer focuses to tap the entire set of potential customers in the beginning.
his involves making them aware of the product by the use of effective advertising, marketing, public relations, and other communication strategies.
Awareness is followed by generating a lead by acquiring customer information in some sort.
This information is then pulled into a lead management system to nurture further down the funnel.
Interest
Once the lead is generated, it's time to inform him more about the product and the brand.
The customer learns more about the company through consumer research, word of mouth, and through many other means online and offline.
The more positive information he gains about the brand, the more interested he becomes.
Marketers should tap every opportunity to develop a relationship with the buyer at this stage.
This is often done through monitoring reviews of the products, testimonials from previous customers, inbound marketing, having a great graphic interface to draw attention, delivering more information to the customer, etc.
This is a crucial stage of the marketing funnel as it is chiefly at this stage that the prospective buyer would want to remain in or leave the funnel.
Consideration
The interest stage is followed by the stage of consideration where the lead gets converted into a marketing qualified lead.
The prospective customer is now considering to buy the product and hence marketer needs to give more attention and communicate to him elaborated information about the product, offers, and discounts.
This information is communicated through free trials, basic services (if applicable), targeted emails, newsletters, phone marketing, and other direct interaction strategies
Intent
An intent stage is when the prospective customer does some specified activity after the consideration stage, this includes purchase-related queries, putting the product in the shopping cart, etc.
The intent stage is a trigger for the marketer to start with its remarketing and other pull marketing strategies.
What Is A Marketing Funnel And Why Should You Care?
Click here to view original web page at medium.com
Hint: Because it's the basic requirement of a successful online business.
A marketing funnel is what takes a potential customer through the whole journey from discovering your business, all the way to purchasing your products on a regular basis.
The goal is to create a highly automated system that is measurable at any point in the customer journey.
Let's just say that you are selling four main products:
A book
An online course
Seminars
A one-on-one coaching program
It's highly unlikely that somebody comes across your name, researches everything that you have to offer, and then immediately decides to buy your most expensive one-on-one coaching program.
In fact, that hardly ever happens.
For customers to purchase your products, they first need to be convinced that they are making a good investment.
They need to trust you.
They need to feel like the risk is relatively low.
In short, they need to 'get to know you' through a process.
They need to have different touch points with you over time. They need to see consistent value from you over time.
And that's what a marketing funnel does.
It takes your customers from the first point of hearing about you (e.g. through your blog or through an interview you gave on Youtube) and takes them through all the steps until they become frequent buyers of your products.
The three layers of a marketing funnel.
1. The prospecting system.
A prospecting system is basically a way of getting a prospective customer to know you and getting them to receive regular updates from you (e.g. by subscribing to your e-mail list or by following your Medium account).
This is what most people instinctively build and focus the large majority of their energy on.
Why?
Because it is the most visible of the three.
When we try to look at what other 'successful' businesses in our field are doing, we immediately get to see their prospecting system.
This is all the stuff they do on their blog, on social media, the PR work they are doing and so on and so forth.
Everything that gets prospects to stay in touch with their business on a regular basis, really.
The golden grail of this stage is to get your potential customers to become subscribers of your e-mail list.
Why?
Because you have full control over this channel and you can measure the outcomes of what happens with your e-mail subscribers clearly.
Once you have gotten people through this stage, you can:
reach them at any point in time
track how they respond to your offers
adjust your marketing accordingly
2. The sales conversion system.
A sales conversion system is basically everything that happens once you have gotten somebody to subscribe to one of your channels. What you want to do is to slowly build trust with your potential customers and then eventually to convert him or her to buying one of your products.
You continuously provide value through things like free weekly newsletters, podcasts, free reports and so on and so forth, and then you occasionally share one of your products with your target customer.
Your system automatically keeps track of who bought and who didn't buy.
If somebody didn't buy, you can send them follow up e-mails asking why they didn't buy and what their objections were.
You can use these as data points that will tell you more about how you should market your products in the future.
Obviously, customers sometimes just aren't ready to buy.
They might really want to join your coaching program, but they just don't have the money to pay for it.
A good system will allow you to track such things and then get back to your potential customers later.
Or, you might find that one of your customers simply wasn't aware of one of your lower-priced products.
So you can offer that to them.
Mostly, the first point of sale is going to be one of your entry-level products.
In the case of the business model outlined above, that would be your book (which is the cheapest product you have to offer).
You will have to find subtle ways of reminding your potential customers on a regular basis that your book is still available for purchase.
They might not buy the first time you offer it to them.
But they might buy it the seventh time.
Again, a good system keeps track of where your customers are in the life cycle and then adjusts your offering accordingly.
3. The system to maximize customer lifetime value.
The people who have already bought from you also are the people who are potentially the most valuable to your business.
People who buy from you once and are happy with the experience, are much more likely to buy again.
So you need a system that caters to people who have already purchased one or more products from you.
You need to keep track of who purchased what products.
And you can offer these people those products, which they haven't bought yet.
Let's say that Peter just bought your book.
At the end of the book, Peter finds a listing of other products you have to offer.
At this point, he just isn't ready yet to make such a purchase.
Perhaps he currently has money problems.
Perhaps he is currently going through other issues in life.
Perhaps he just wanted to read a good book and currently isn't trying to solve the problem that your courses solve.
Understanding the Marketing Funnel and Why It Matters for Your Marketing Efforts
Click here to view original web page at philosophycommunication.com
We frequently reference the coveted "Marketing Funnel" in our discussions with existing and prospective clients.
Why?
Because it is a critical tool in understanding your audience's buying processes and how they get to a purchasing decision.
Since marketing compliments the sales process, we find many business owners and marketing managers benefit from learning how their communication efforts can inform their target audience's buying behaviors.
Furthermore, it's hard to align or evaluate your marketing expectations with real-world results if you don't understand the customer experience from beginning to end.
Below are a few notes on each stage of the funnel and why they matter to your marketing and communication efforts going forward.
Awareness/Discovery—In this stage, people know you exist and what you do. It also speaks to audiences who recognize they have a problem they're looking to solve.
Generally, this stage is expensive to invest in and offers little return but it is necessary to create an audience for the rest of the funnel.
After all, people can't buy from you if they don't know you exist!
Consideration—This stages houses a smaller audience because those that were "aware and not a good fit" are weeded out and your are left with the people who do have a need and now need to decide between you and your competitors.
It's important to note, you will lose quite a few people in this stage of the funnel because of the abundance of options available to buyers—and that's okay.
You only want truly interested people ready to invest in this stage.
Conversion/Purchase—This stage welcomes an even smaller audience group who are now convinced your product/service is the one for them and they are buying!
This is where you gain your customers.
Advocacy—Your pool of interested buyers are now primed to be brand advocates for your product/service.
As such, these people will spread the good news about your product/service. But the Marketing Funnel doesn't stop there.
To continue to grow your customer base, don't neglect to stay in touch after they pay you.
Continue to nurture them so when they are in need of another product/service or know someone else who can benefit from your business, you're brand name will be a part of their referral conversation.
Now that's winning.
How to Build Marketing Funnels with Email
Click here to view original web page at blog.aweber.com
Understanding the marketing funnel will help you transform prospects into loyal customers — who will then refer you to their friends.
You could spend hours designing and writing a compelling email series that explains the amazing benefits of your product.
But if you don't have a start-to-finish plan for connecting with your subscribers at every stage of their customer journey, you're wasting your time.
Thankfully, there's a marketing tool that can help you figure out how to communicate with your prospects and customers whether they've just joined your list, or they've been long-time customers.
It's called the marketing funnel.
What is the Marketing Funnel?
The marketing funnel is a tool that helps you visualize the customer journey, or the path a prospect takes as they become familiar with your company, from introduction to conversion (and hopefully beyond).
Your marketing funnel should include the following 5 stages: awareness, consideration, conversion, loyalty, and advocacy.
The Old-School Marketing Funnel
You might be familiar with the cone-shaped marketing funnel.
This old-school version of the marketing funnel required you to continually fill the top of the funnel with as many people as possible since only a few people traveled all the way through to advocacy.
But it's time to throw that old-school marketing funnel out the window.
The problem with this version of the marketing funnel is that it tells you marketing efforts end at the point of purchase.
After a person becomes a paying customer, your job is done.
But that's not an effective strategy to grow your business.
Instead, we recommend you follow a marketing funnel that looks more like a bow tie that's wide on the left, narrow in the middle, and wide on the right.
The New Marketing Funnel
Your relationship with your customer shouldn't end at the bottom of the cone-shaped marketing funnel.
Instead, focus on customer retention just as much as you focus on lead generation.
Why? Because happy customers are more likely to share great brand experiences with their family and friends.
These loyal customers become advocates for your brand and they have the power to drive more leads for you.
Marketing to customers after they buy from you is just as important as marketing to prospects before they buy from you.
Need proof?
The numbers speak for themselves: 84% of consumers will take action based on recommendations from people they know.
And there's an extraordinary upside to emphasizing customer retention in your marketing funnel: more money in your pocket.
You may have heard of the Pareto Principle in marketing, which says that 80% of your profits come from just 20% of your customers.
So if you're not marketing to your customers, you're losing out on huge profits.
Let this be your wakeup call.
This is your opportunity to create a deeper relationship between you and your customer.
Get feedback from them, and apply it to content across all the marketing funnel stages.
With a tool like email automation, it's easier than ever before to move people through your funnel toward advocacy.
Automation features allow you to give each subscriber the content, information, or products they need when they need it most.
It personalizes their experience at all areas of the funnel.
And once it's set up, you never have to lift a finger!
You've effectively set up an engine that generates passive income to fuel your passion.
In this post, we'll show you how to build marketing funnels with email.
5 Strategies to Take Your Subscribers Through the Marketing Funnel Stages
Now that you understand what the marketing funnel is, I'll describe the stages of the marketing funnel and give you email marketing strategies for each stage.
1. Awareness
Awareness is the first of the marketing funnel stages.
During this stage, prospects that are strangers to your brand and company learn who you are.
This is your opportunity to start building a trusted relationship with your prospects.
It is your job during this stage of the marketing funnel to demonstrate your value to subscribers through free, educational content.
They're not ready to buy from you yet — because they don't yet understand what you bring to the table.
Not sure what free content to send in your emails?
Let's say you're a personal trainer who's trying to acquire more customers with email.
Here are some ideas for content you could include in an automated email series to your subscribers:
Blog posts about nutrition or fitness
A food tracking calendar worksheet
An ebook that explains the health benefits of being fit
A live 30-minute workout webinar
(Here are 22 Brilliant Lead Magnets That'll Inspire You to Grow Your Email List Right Now.)
Fitness influencer Kayla Itsines builds a relationship with her subscribers, shows her expertise and demonstrates the value of her services by giving her subscribers a free week of her Bikini Body Guide workout program.
When subscribers sign up, they receive an ebook with a full week of workouts so they can test the program and see the value of it for themselves.
2. Consideration
Once a subscriber moves past the awareness stage of the marketing funnel, they enter the consideration stage.
In the consideration stage, a subscriber is willing to consider purchasing your services or products.
They are interested in learning more about you and what you can offer them.
Since you know more about your subscriber in this marketing funnel stage than you did during the awareness stage, you can send them more targeted content that addresses their specific pain points.
This helps build trust between your subscriber and your brand, because you're showing them that you understand them.
So what kind of content should you send your subscribers during the consideration stage?
Let's say that you are an online nutrition coach trying to get more leads to consider purchasing your 8-week nutrition course.
Here are a few examples of content you could include in your emails:
A testimonial or case study showing how other customers got success with your course
A live nutrition webinar
Your free podcast episodes, where you talk about many of the principles you teach in your course
In this email, OptimizeMe includes a testimonial from a customer who saw great success after purchasing the masterclass.
The testimonial is appropriate during the consideration stage, because it relates to subscribers' interests (nutrition) and introduces subscribers to the product (8-Week Nutrition Essentials Masterclass) while showing the value of that product.
3. Conversion
It has finally arrived: decision time.
Once your subscriber knows the value of your product and you have educated them on the product itself through the use of social proof, webinars, blog posts, and other educational content, they are ready to decide whether or not to purchase.
Once you've reached this marketing funnel stage, you can start talking about why your product and service is better than your competitors' and why it's perfect for your prospect.
Focus on the benefits of your product/service rather than just explaining features.
Here are a few tactics you can use to convince your subscribers to purchase:
Invite subscribers to a sales webinar where you show them your product/service and tell them the benefits
Create an automated email series that describe a different benefit of your product/service
Offer a free trial or give away samples so that prospects can see the benefits for themselves
Send subscribers an email that offers a sale or discount for purchasing within a certain timeframe
By offering discounts and deals via email, Freshly creates a sense of urgency for their subscribers.
If subscribers are interested in purchasing but haven't yet, this email convinces them that now is the perfect time to take action.
4. Loyalty
Once a prospect becomes a customer, you may be tempted to pat yourself on the back and move on to the next prospect.
However, forgetting about your customers is a bad idea.
Unless you have a plan for developing customer loyalty, you'll probably lose many of your customers, wasting a lot of your prior marketing efforts during the earlier marketing funnel stages.
Remember the Pareto Principle?
Repeat customers are too valuable to ignore.
So what kind of email content increases loyalty and retention?
Let's say you have an online coffee store.
You sell subscriptions to your coffee-of-the-month club, and you don't want your coffee-of-the-month members to lose interest and cancel their subscription.
Here are a few ideas for valuable content you could include in your emails to increase retention:
A monthly live stream to YouTube that describes the coffee-of-the-month and gives coffee brewing best practices.
A survey that asks customers how happy they are with the coffees they are receiving and what other kinds of coffee they'd like to get.
Educational content about the history of coffee.
A 20 percent discount to customers that purchase a yearly subscription of your coffee-of-the-month club.
To retain their customers and encourage loyalty, Canva sends educational emails to teach their customers how to use Canva.
5. Advocacy
Advocacy happens when your customers become something more than customers: they become fans.
Bringing subscribers to this stage of the marketing funnel is extremely valuable.
The most effective marketing is referral marketing.
When your friend tells you a certain product is awesome, you are much more likely to purchase that product because you trust your friend.
What are some ways to use email to turn your customers into raving fans?
Identify customers that love you and send them an email asking them to refer you to their friends
Include a survey in an email to learn how you could improve your product or service
Start an affiliate or loyalty program where customers get incentives for referring you
Engage with your advocates by replying to their emails, posting on social media, offering incentives for writing reviews and participating in testimonials
You also want to collect feedback during this stage.
The more you listen to your customers, the more you can learn and improve your content so it's in line with their challenges, needs, and wants.
Tools like SurveyMonkey and SurveyGizmo make collecting feedback easy.
Pro tip: Inside AWeber's platform, you can find survey templates, too.
All you have to do is add your own content into the templates and send it to your customers.
To make their subscribers feel special, Godiva offers discounts to their exclusive rewards members.
In Conclusion
There you have it chaps.
By this time, you know what is a funnel or a marketing funnel.
How to use it … its benefits … and how you can harness the brilliant power of a marketing funnel.
I hope that you have gained something out of this article.
In the next issue, we will deal more on marketing – possibly all tech such as chat bots and whatnot.
Till next time.
See ya later Alligator …