What percentage of people go to the second page of Google
Oh dear, its November.
And you know what that means.
It means we are almost approaching the end of the year 2020.
But who's counting anyway – yeah you're right.
As long as business is business … everything is great – isn't it?
OK, get those reference books out here – 'cause we will discuss more about Search Engine Optimization.
While I was looking for my book, I noticed that Dexter my cat was peeing on my SEO book.
Naughty cat you are.
Shove off you orange furry friend – I'm discussing SEO right now and this is a no place for cats.
Not long Dexter run as if he was being chased by lightning.
Now, where are we?
Ah yes, about SEO and landing on the 2nd page of Google.
If you have landed your website on page 2 (which you probably did).
You feel that nothing's happening.
In terms of traffic, lead generation and sales.
Apparently, there are ways in which we can improve our rankings.
I'm talking about blackhat SEO approach here.
Where you manipulate the SERPs.
We will not delve in those sort of things.
I'm talking legitimate way of putting your website on page 1 – I think that's the ultimate goal.
No one ever goes to page two of Google.
It's either you're on page one, or it doesn't even matter.
Today I'm going to share with you how to go from page two of Google to page one.
How to Go From Page 2 to Page 1 of Google Tip #1 The first tip is to look at all of the results that are ahead of you on page one.
You go to those URLs, and you can take their site and put it into Ahrefs.
When you put in that URL into Ahrefs, it shows you every single person that's linking to your competition.
Make sure your webpage is better than your competition's.
How to Go From Page 2 to Page 1 of Google Tip #2
My second tip is you optimize your title tag.
You can go into Google Search Console, look to see what keywords you're getting impressions for and what keywords you're getting clicks for.
If the main keyword you're ranking for isn't getting that many clicks, you need to adjust your title tag to be more appealing.
How to Go From Page 2 to Page 1 of Google Tip #3 The third thing you need to do is stop looking at search queries as keywords.
Yes, people are typing in keywords into Google, but these keywords aren't just for the sake of them typing in a word.
A keyword is usually a problem that someone's trying to solve.
For example, if you type in how to get more Google traffic or even something more broad like SEO, the chances are you're looking to increase your rankings because you want to get more traffic to your website, get more customers to your business.
Look at these key terms, keywords, key phrases as problems.
If you can solve the problems people are looking for, right, these solutions that they're looking for, you're going to get more traffic.
How to Go From Page 2 to Page 1 of Google Tip #4 The next tip is to build up your brand.
And here's what I mean by that.
One of the biggest factors when it comes to Google rankings is brand.
How to Go From Page 2 to Page 1 of Google Tip #5
And lastly, think about the user first.
That's the best way to build a brand.
It's not about making money.
Yes, you want money, a lot of businesses do, but they don't make money because they want to make money.
They make money because they solved a problem.
So if you put your users first, you survey them using tools like Koala Room or Survey Monkey figure out how you can truly help them knock their socks off, they're going to have such a better experience that over time, you're going to build up your brand.
So if you do those four things, over time, you're going to notice your rankings go from page two to page one.
But here's the thing, most people want the rankings to go up right away.
It doesn't happen that way. Sure, I know that you went from page 1000 to page, you know, eight fast and you may even go from page eight to page three or page four pretty quickly.
But as you keep moving up, Google takes their time to move up rankings.
It's not because their algorithm's slow, it's that they want to ensure that you're providing a better experience than all the people who are ranking above you.
So if you follow these tips, you're going to go from page two to page one.
Pat Ahern is a partner at Junto – the digital marketing agency that is powered by vetted freelancers from across the world.

Pat loves rock climbing, craft beer and helping startups grow.

Yes, we did just say mind-bottling.

While many believe that SEO is dead (enough that 210 people […]
Click here to view original web page at junto.digital
Pat Ahern is a partner at Junto – the digital marketing agency that is powered by vetted freelancers from across the world.
Pat loves rock climbing, craft beer and helping startups grow.
Yes, we did just say mind-bottling.
While many believe that SEO is dead (enough that 210 people search for that exact phrase every month), the reality is that SEO is still very much alive, and we have the statistics to prove it.

Sure, Panda and Penguin have made it very difficult to cheat the system, but each of these algorithm updates has moved SEO from a manipulative marketing practice to an art form that combines branding, content creation, IT, and content promotion to drive highly qualified visitors to your website.
Whether trying to understand if SEO is right for your business or trying to sell SEO to a potential client, these 25 SEO stats from 2018, 2019, and 2020 should be enough to convince anyone that SEO is essential to their business.
While also providing some good benchmarks when building your company's SEO strategy.
SEO Stats for 2020
1. 93% of online experiences begin with a search engine.
2. Google currently holds 90.1% of the total search engine market share (Google + Google Images), followed by YouTube (owned by Google), Yahoo!, Bing, and Amazon. 
3. 57% of B2B marketers stated that SEO generates more leads than any other marketing initiative.
Related: learn how to 2x your monthly leads overnight.
4. 81% of people perform some type of online research before making a large purchase. 
5. 47% of consumers view 3-5 pieces of content created by a company before talking to a salesman from that company.
6. 72% of online marketers describe content marketing as their most effective SEO tactic.
7. 75% of people never scroll past the first page of search engines.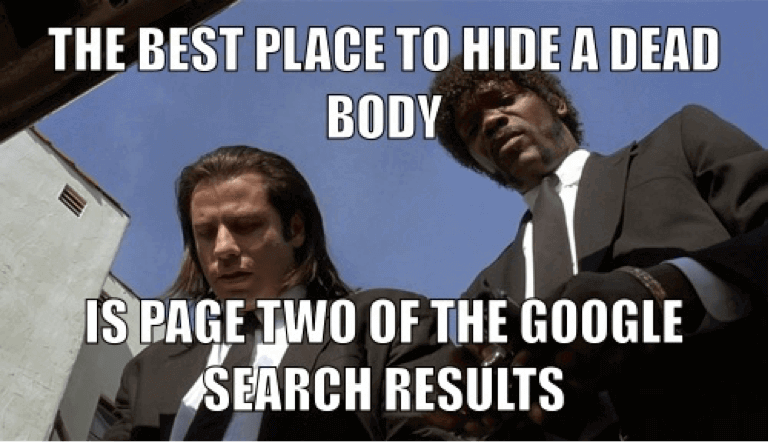 Photo credit to Huffington Post
Oh, you just did a search for the phrases that relate to your business and came up on the second page of Google search results? 
That's a bummer.
But getting highly-targeted visitors to your website is overrated, right?
That's where we come in.
Take 2 minutes to fill out this content marketing form and we'll tell you exactly what you need to fix those search ranking issues.
Read this ecommerce SEO case study to see how we got one e-commerce company to rank 7th on Google for "camera backpacks", just in time for Christmas.
Ok, enough shameless self-promotion. Back to the stats!
8. 61% of internet users do research on a product online before making a purchase. 
9. The average first-page result on Google consists of 1,890 words. 
Learn our step-by-step content development process to see how we consistently rank at the top of Google.
10. Leads from search engines have a 14.6% close rate, while outbound leads (ex. cold-calling, direct mail, etc.) have a 1.7% close rate. 
11. 70-80% of people ignore paid search results, choosing to only click on organic search results. 
12. Bounce rates increase by 50% if your website takes 2 seconds extra to load.
13. Conversion rates fall by 12% for every extra second that it takes your website to load.
14. Voice search currently accounts for 10% of total searches.
Simple, approachable, and results-driven digital marketing services.
Local SEO Statistics for 2020
Outranking national brands in search results was once nearly impossible in the world of SEO.
Fortunately, Google gave local businesses a way to compete with the big guys in 2014.
In July 2014, Google rolled out the first version of their Pigeon update, which gave local businesses the ability to compete for search rankings on a local level.
In short, Google began to give a ranking boost to businesses in close proximity to the searcher in location-specific searches (ex. "pizza near me", "Denver contractors", etc.).
Pigeon invited local businesses to the world of search engines, and those who were paying attention made out like bandits.
Mobile SEO Statistics for 2020
If you thought that mobile-friendly sites were "unnecessary", I think it's safe to say that Mobilegeddon proved you wrong.
On April 21, 2015, Google rolled out an algorithm update that hurt the search rankings of non-mobile-friendly sites in mobile search results.
In other words, if your website ranked first in Google for "Denver pizza shop" when searching from your mobile device, but was a pain in the ass to navigate through on your phone, then it wasn't going to stay there for long.
Mobile search rankings are more important than ever, and will only grow increasingly important over time.
To sum it all up:
Search engine optimization is essential to your business' success
In most cases, writing long-form content is better than writing 500-word blog articles
If your website isn't mobile friendly, it's probably time for a new website
Every local business needs to have a website that is optimized for local search results
So was "mind-bottling" a fair word to use?
For those of you looking to get started with SEO, come explore our content marketing services to see exactly what we would do for you today.
So there you have it folks, our article for today.
I hope you like it.
I'll see you in the next issue ( I hope not ! @@@@ ) Joke … Joke … Joke !!!